£38.00
BUY ONLINE
Rise & Sunshine Bath Mat
from Anthropologie
(This price may have changed! Click on the product to visit the Anthropologie site for the current price.)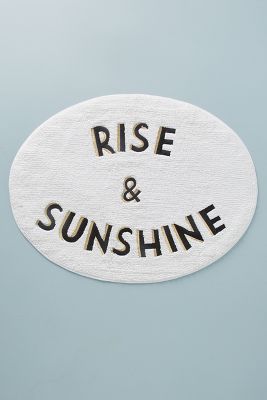 Anthropologie With a unique oval shape, this mat adds charm to your bath while providing a plush spot for your feet to land after morning showers.
Here is an extra 20% off the mid-season sale at Anthropologie
Worldwide Shipping Options at Anthropologie:
Where do we deliver?
Anthropologie.eu ships throughout the UK and Europe:
UK Mainland, Republic of Ireland, Northern Ireland, Channel Islands, Scottish Highlands, Isle of Man, Austria, Denmark, Belgium, Netherlands, France, Germany, Luxembourg, Italy, Czech Republic, Slovakia, Spain, Finland, Portugal, Malta, Poland, Hungary, Astonia, Cyprus, Slovenia, Sweden, Norway, Switzerland Bulgaria, Latvia, Lithuania, Romania, and Greece.
Postage costs from £5 to £32 depending upon where you live
CLICK HERE for more details