£58.00
BUY ONLINE
from Anthropologie (This price may have changed! Click on the product to visit the Anthropologie site for the current price.)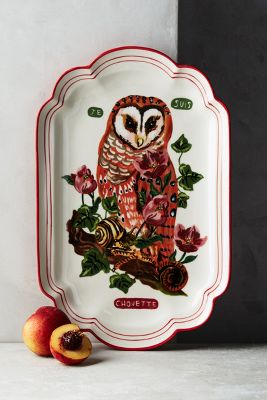 Anthropologie Anthropologie; Born in 1964, Nathalie Lete studied fashion design at the Art Applieque's Duperre and lithography at the Beaux Arts de Paris. Her paintings, ceramics, textiles, jewellery, books and toys are built upon a foundation of fantasy, humour and childhood memories. Here, opaque stoneware is adorned with French-inspired whimsy, making any meal that much more appetising.
£58.00
BUY NOW
from Anthropologie (Visit the Anthropologie site for the current price!)
Worldwide Shipping Options at Anthropologie:
Where do we deliver?
Anthropologie.eu ships throughout the UK and Europe:
UK Mainland, Republic of Ireland, Northern Ireland, Channel Islands, Scottish Highlands, Isle of Man, Austria, Denmark, Belgium, Netherlands, France, Germany, Luxembourg, Italy, Czech Republic, Slovakia, Spain, Finland, Portugal, Malta, Poland, Hungary, Astonia, Cyprus, Slovenia, Sweden, Norway, Switzerland Bulgaria, Latvia, Lithuania, Romania, and Greece.
Postage costs from £5 to £32 depending upon where you live
CLICK HERE for more details